Το προϊόν αφαιρέθηκε από το καλάθι σου με επιτυχία.
Το προϊόν αφαιρέθηκε από την Wishlist σου με επιτυχία.
Όλα τα προϊόντα αφαιρέθηκαν από το καλάθι σου με επιτυχία.
Όλα τα προϊόντα αφαιρέθηκαν από την Wishlist σου με επιτυχία.
Όλα τα προϊόντα ενημερώθηκαν με επιτυχία.
Όλα τα προϊόντα ενημερώθηκαν με επιτυχία.
Κάτι πήγε στραβά, παρακαλώ προσπαθήστε ξανά
Κάτι πήγε στραβά, παρακαλώ προσπαθήστε ξανά
Λόγω περιορισμένης διαθεσιμότητας δεν μπορείτε να προσθέσετε παραπάνω τεμάχια στο καλάθι
Λόγω περιορισμένης διαθεσιμότητας δεν μπορείτε να προσθέσετε παραπάνω τεμάχια στην Wishlist
Λόγω περιορισμένης διαθεσιμότητας σε κάποια από τα προϊόντα του καλαθιού σας δεν μπορείτε να προσθέσετε παραπάνω τεμάχια
Λόγω περιορισμένης διαθεσιμότητας σε κάποια από τα προϊόντα της Wishlist σας δεν μπορείτε να προσθέσετε παραπάνω τεμάχια
TS-233
Build a personal private cloud & home multimedia center with a built-in NPU to boost AI-powered face recognition
Run your own personal cloud storage and enjoy easy file access, sharing, and syncing with the TS-233. Designed to enhance collaboration and increase remote work productivity, the TS-233 also features rich multimedia applications and provides a complete home entertainment portal.
Centralized multimedia management
Centrally store photos, music, and videos; easily browse, organize, and share multimedia files.
AI-powered image recognition
With a built-in NPU (Neural network Processing Unit) processor, the TS-233 boosts performance for high-speed face and object recognition.
Home entertainment center
Supports ARM NEON technology that accelerates video processing for a greater entertainment experience.
Secure remote access
myQNAPcloud allows you to easily access, manage, and share NAS files via the Internet.
Snapshot protection against Ransomware
Protect your files and data from accidental deletion and malware attacks by using advanced snapshot protection.
Comprehensive security management
Serves as a secure private cloud and supports user account protection, IP blocking, 2-step verification, encryption access, and more.
Minimalist design
The compact and slim TS-233 prioritizes a clean and essential design, and perfectly blends into your home or office. The design extends to the hard drives, which can be installed without needing a screwdriver.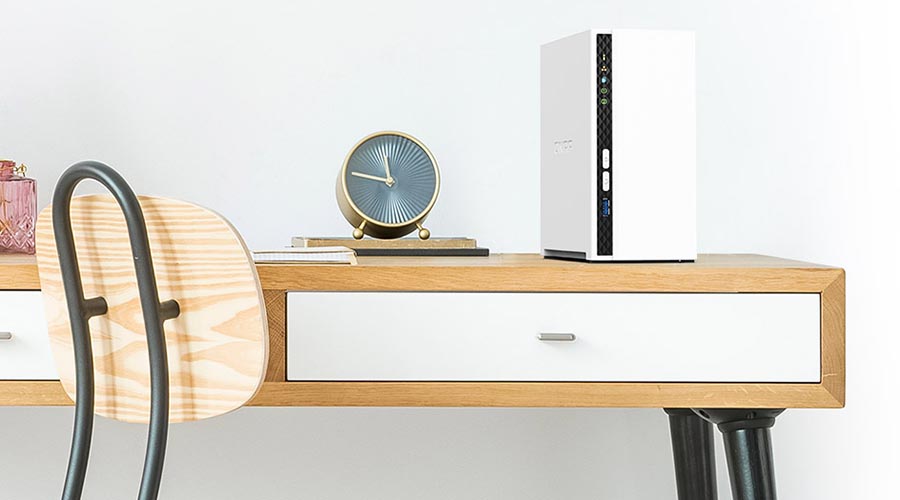 Effective cooling fan for heat flow
The TS-233 is small in size and remains high-performance, cool, and quiet with an effective cooling fan.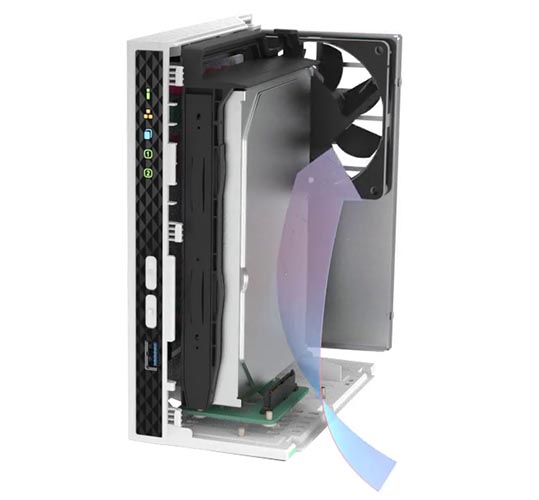 64-bit Cortex-A55 quad-core 2.0 GHz CPU
NAS for everyday use and collaboration
Powered by a ARM® Cortex-A55 quad-core 2 GHz processor, built-in 2 GB RAM, one Gigabit LAN port, and supports two SATA 6Gb/s hard drives, the TS-233 provides dependable read/write performance for running various home and business NAS applications. The TS-233 features AES-NI 256 hardware-accelerated encryption for both full NAS volumes and shared folders, boosting system performance while securing sensitive data.

QTS 5, Fast, smooth, and easy-to-use!
The TS-233 comes with the QTS 5 operating system as standard, providing a next-generation usage experience with an updated system kernel, optimized user interface, and advanced security features.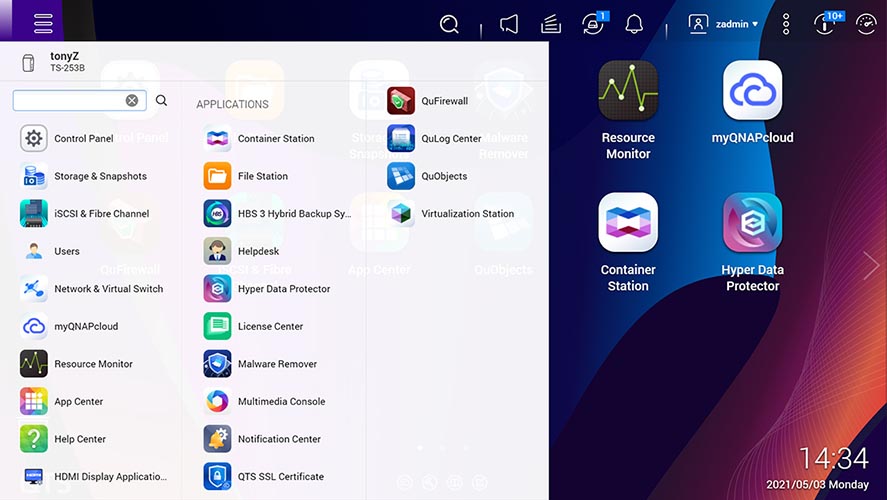 An easy-to-use, all-in-one backup solution
The TS-233 can do many things, but at its heart is a complete backup solution to protect your files and data. By regularly backing up your files and device content, you can make data loss a thing of the past.
Back up Windows®/Mac® files
For Windows®, install NetBak Replicator to back up your PC to the TS-233. In macOS®, simply set up the built-in Time Machine® to back up files to NAS.
Back up photos on mobile devices
Install Qfile or QuMagie mobile app and enable the "auto-upload" function. Photos will be automatically uploaded to your TS-233 as soon as they are taken.
Back up USB drives & external hard drives
Simply plug in the storage device to the front USB port of the TS-233 and press the One-Touch Copy button to back up all files to the NAS.
Back up Google Drive™
Hybrid Backup Sync can safely back up files and data from Google Drive™ to the TS-233, helping you save money on cloud storage costs.
Back up NAS files to the cloud
Hybrid Backup Sync supports all your favorite public cloud services, allowing you to effortlessly back up or sync NAS files to cloud storage.
Back up NAS files to remote sites
With Hybrid Backup Sync, you can easily backup or sync files and data from the TS-233 to a remote QNAP NAS or server for multiplied data protection.
Back up WordPress sites
Enjoy efficient WordPress backup/restore and site migration by leveraging the user-friendly Multi-Application Recovery Service (MARS), and easily batch backup WordPress files and database to the TS-233 with backup scheduling.
Enhanced multimedia experience
The TS-233 supports ARM NEON technology to accelerate video processing for a greater entertainment experience. Stream media files from the TS-233 to DLNA® devices and TVs using common media streaming devices including Roku®, Apple TV® (via Qmedia), Google Chromecast™, and Amazon Fire TV®.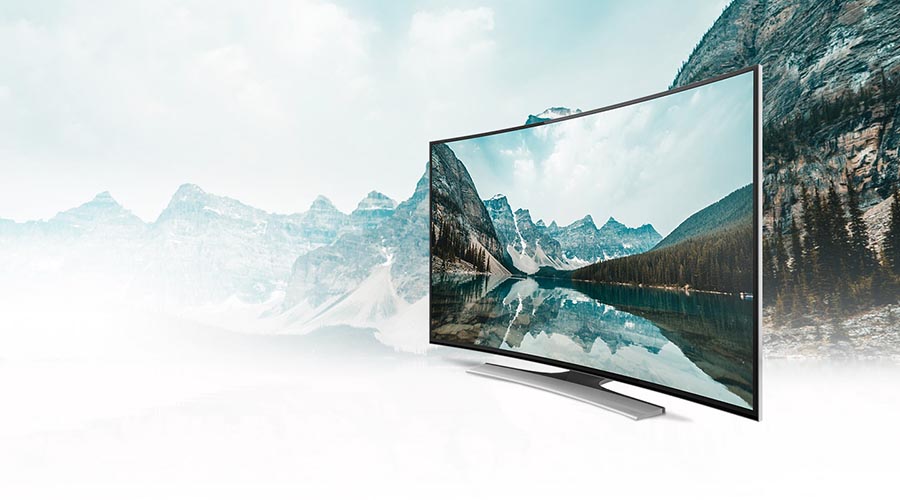 Operating System

QTS 5.0.0

Supported Client Operating Systems

Apple Mac OS 10.10 or later

Ubuntu 14.04, CentOS 7, RHEL 6.6, SUSE 12 or later Linux

IBM AIX 7, Solaris 10 or later UNIX

Microsoft Windows 7, 8, 10 and 11

Microsoft Windows Server 2008 R2, 2012, 2012 R2, 2016, and 2019

Supported Browsers

Apple Safari (latest version)

Google Chrome (latest version)

Microsoft Edge (latest version)

Mozilla Firefox (latest version)

Supported Languages

Chinese (Traditional & Simplified), Czech, Danish, Dutch, English, Finnish, French, German, Greek, Hungarian, Italian, Japanese, Korean, Norwegian, Polish, Portuguese (Brazil), Romanian, Russian, Spanish, Swedish, Thai, and Turkish

Storage Pool

Yes

SED Storage Pool

Yes

Maximum Pool size

308 TB

Maximum number of storage pool

128

Volume Type

Thick, Thin, Static

Maximum volume size

250 TB

Note: At least 4 GB RAM is required.

Maximum number of volume

128

Maximum shared folder size

250 TB

Maximum number of shared folder

512

JBOD Expansion

Yes

VJBOD / VJBOD Cloud

Yes

iSCSI Service

Yes

Fibre Channel Service

Yes

LUN Type

Thick, Thin

File-based iSCSI LUN

Yes

Block-based iSCSI LUN

Yes

Maximum LUN size

250 TB

Note: At least 4 GB RAM is required.

Maximum number of targets LUN

256

LUN feature

LUN Mapping (LUN can be moved between iSCSI and FC)

LUN Masking

WWPN Aliases Import/Export

FC Port Group

FC Port Binding

Multipath IO (MPIO)

Online LUN capacity expansion

LUN snapshot

LUN snapshot replication and clone

Auto Tiering

Requires minimum 2GB memory.

RAID Type

8-bay (and more): JBOD, Single, RAID 0, 1, 5, 6, 10, 50, 60

6-bay: JBOD, Single, RAID 0, 1, 5, 6, 10, 50

4-bay: JBOD, Single, RAID 0, 1, 5, 6, 10

2-bay: JBOD, Single, RAID 0, 1

RAID Group

To ensure data security, system stability, and storage performance, the maximum number of drives for a single RAID group is now 16 (applicable to RAID 5, RAID 6, RAID TP, and subgroups of RAID 50 and RAID 60). Nevertheless, users can combine multiple RAID groups into a large storage pool that contains more than 16 drives, using RAID 50, RAID 60, or RAID 10 as the RAID configuration. This enhancement will only be applied to new RAID groups. All existing RAID groups and storage systems will not be affected.

RAID Level Migration

Yes

RAID Expansion (by adding Disk)

Yes

RAID Expansion (by replacing bigger Disks)

Yes

Storage Pool Expansion (by adding RAID Group)

Yes

RAID Hot Spare

Global, Local

RAID Sync/Rebuild/Scrubbing

Yes

Internal drive

EXT4

External drive

EXT3, EXT4, NTFS, FAT32, HFS+, and exFAT (optional for ARM model)

Note: To use exFat in certain models you must purchase an exFAT driver license from License Center.

Disk, Enclosure Locate

Yes

Disk S.M.A.R.T. Scan

Yes

Disk S.M.A.R.T. Data Migration

Yes

Ironwolf Health Management

Yes

Secure Erase

Yes

SSD Trim

Yes

SSD Life Estimation

Yes

Disk Roaming

Yes

Disk Standby

Yes

Volume Snapshot

Yes

LUN Snapshot

Yes

Minimum Snapshot Interval

5 minutes

Snapshot Retention Policy

Yes

Self-serve Snapshot Recovery

Yes

Application Consisted Snapshot

Yes

Snapshot Full Clone

Yes

Snapshot Replica / Vault

Yes

SSD profiling tool

Yes

External Device Management

Yes

Mount Smart Phone (MTP)

Yes

External RAID Device (QNAP so on) Management (External Device Mode)

Yes

External RAID Device (QNAP so on) Management (NAS Mode)

Yes

File Server

File sharing across Windows, Mac, and Linux/UNIX

Microsoft networking (CIFS/SMB)

Apple networking (AFP)

NFS version 3/4 services

FTP Server

QuFTP

FTP, SFTP and TFTP protocols

FTP over SSL/TLS (explicit FTPS)

FXP support

Maximum FTP connection

1024

File Station (Web)

Yes

Object Storage

Yes

Local user account

4,096

Local group account

512

Domain user/group account

200,000

Domain Security

Yes

Domain Controller

Yes

Shared folder permission

Yes

Advanced folder permission

Yes, (AFP, CIFS/SMB, FTP, and File Station)

Windows ACL

Yes, (CIFS/SMB)

User quota

Yes

Group quota

Yes

Folder quota

Yes, (Snapshot shared folder)

Home folder

Yes

Resource Monitor

Yes

SNMP

V2, V3

Network recycle bin

Recover files deleted using AFP, CIFS/SMB, and File Station

Automatic cleanup and file type filter

System Log & Notification Center

Log recording: 3,000 event per second

Smart Fan

Yes

Schedule on/off

Yes

Internet protocol

IPv4, IPv6

Virtual Switch

Yes

Port trunking

Yes, (7 modes)

VLAN

Yes

DHCP Server

Yes

DDNS (Dynamic Domain Name Service)

Yes

Network access protection with auto-blocking

SSH, Telnet, HTTP(S), FTP, CIFS/SMB, and AFP

Security Counselor

Yes

Malware Remover

Yes

AES 256-bit Volume Encryption validated by FIPS 140-2 CAVP

Yes

2-step verification

Yes

Allow/Deny List

Yes

Access Protection

Yes

Service binding

Yes

Firewall

Yes

vSphere Web Client Plug-in

Yes

VMware vSphere VAAI for iSCSI

Yes

VMware vSphere VAAI for NAS

Yes

Windows ODX

Yes

Windows/VMware Snapshot Agent

Yes

HTTP/HTTPS Connections

TLS 1.0/1.1/1.2/1.3

Supports WebDAV Connection

Yes

Supports Virtual Hosts

32

Qsync

Yes

Note: At least 1 GB RAM is required.

[Qsync] Management Mode

User customization, Central

[Qsync] Qsync client supported platforms

Windows, macOS, Ubuntu, Android, and iOS

[Qsync] Maximum number of version control

64

HybridMount

Yes

Note: At least 1 GB RAM is required.

[HybridMount] File Cloud Gateway

Concurrent Connections = 20 Upload & 20 Download

[HybridMount] Network Drive Mount

Yes

[HybridMount] Free cloud gateway sessions

2

HBS (Hybrid Backup Sync)

Yes

Note: At least 1 GB RAM is required.

[HBS (Hybrid Backup Sync)] NAS to NAS backup

Yes

[HBS (Hybrid Backup Sync)] Cloud Backup

Yes

[HBS (Hybrid Backup Sync)] Cloud Sync

Yes

[HBS (Hybrid Backup Sync)] 2-way and Active Sync

Yes

[HBS (Hybrid Backup Sync)] Apple Time Machine Backup

Yes

[HBS (Hybrid Backup Sync)] External drive backup

Yes

[HBS (Hybrid Backup Sync)] Maximum number of backup job

400

Boxafe

Yes

Note: At least 1 GB RAM is required.

[Boxafe] Office 365 Backup

Yes

[Boxafe] Google Workspace Backup

Yes

[Boxafe] Full-text search

Yes

Qsirch

Yes

Note: This feature is supported by all QNAP NAS devices with at least 2 GB of memory

[Qsirch] Previews

Photos, music, videos, PDFs, Gmail, and others

[Qsirch] Integrate Mac Finder

Yes

[Qsirch] Advanced picture search

Yes

[Qsirch] Search filters

Yes

QuMagie

Yes

Note: At least 1 GB RAM is required.

[QuMagie] Browse photos

Yes

[QuMagie] Virtual and smart albums

Yes

[QuMagie] AI-assisted photo management

People, things, places, and others

Antivirus (free)

Yes

QVPN Service

Yes

Note: At least 1 GB RAM is required.

[QVPN Service] Remote Access

PPTP, L2TP/IPSec, OpenVPN, WireGuard, QBelt (QNAP proprietary)

[QVPN Service] Supportedd utility and mobile app

Windows, macOS, iOS, and Android

[QVPN Service] Supported maximum clients

100

LDAP Server

Yes

RADIUS

Yes

SQL server

Yes

License Center

Yes

Multimedia Console

Yes

Photo Station

Yes

Music Station

Yes

Video Station

Yes

Download Station

Yes

Notes Station

Yes

Qfiling

Yes

Media Streaming add-on

Yes

QmailAgent

Yes

QuWAN

Yes

DA Driver Analyzer

Yes

Q'center

Yes

Note: The application is available in the App Center and in virtual appliance marketplaces (VMware vSphere ESXi and Microsoft Hyper-V).

Q'center Server

Yes

Q'center Agent

Yes

Connect to Q'center

Yes

Container Station

Yes

Note: At least 1 GB RAM is required.

[Container Station] Supported type

LXC/LXD and Docker

Note: LXD has been supported after Container Station 2.4

[Container Station] Docker Hub Registry

Yes

[Container Station] Container importing and exporting

Yes

[Container Station] Console mode

Yes

QVR Elite

Yes

Note: At least 1 GB RAM is required. The maximum number of channels supported varies by NAS model, network configuration, and camera settings.

[QVR Elite] Recording Technique

Standard MP4 file based

[QVR Elite] License Type

Subscription-based

[QVR Elite] User-defined trigger events

Yes

[QVR Elite] QVR Pro Client (Desktop)

Windows, macOS, and QNAP HybridDesk Station

[QVR Elite] QVR Pro Client (Mobile)

Android and iOS

[QVR Elite] Recording camera streams

H.264

[QVR Elite] Free built-in camera channels

2

QVR Pro Client

Yes

[QVR Pro Client] Dynamic View Layout

Yes

[QVR Pro Client] Windows

Yes

[QVR Pro Client] Mac

Yes

[QVR Pro Client] HybridDesktop

Yes

[QVR Pro Client] iOS

Yes

[QVR Pro Client] Android

Yes

QVR Human

Yes

QVR Face

Yes

The maximum number of channels supported varies by NAS model, network configuration, and camera settings.

QVR DoorAccess

Yes
Κατασκευαστής
QNAP
Μοντέλο
TS-233 (2-Bay NAS)
Κατηγορία
NAS Chassis
Αριθμός Δίσκων
2x 2.5"/3.5"
Υποστήριξη RAID
Basic
RAID 0
RAID 1
JBOD
Rackmount
Tower
Θύρες Ethernet
1x 1 Gbps
Συνδέσεις
2x USB 2.0
1x USB 3.2 type A
Μνήμη RAM
2GB
Πρόσθετα Χαρακτηριστικά
Υποστήριξη iSCSI
Λοιπά στοιχεία
CPU: ARM 4-core Cortex-A55 2.0GHz processor
Flash Memory: 4 GB (Dual boot OS protection)
Hot-swappable: Yes
Wake on LAN (WOL): Yes
Dimensions (HxWxD): 188.64 × 90.18 × 156.26 mm
Weight (Net): 1.11 kg
Weight (Gross): 1.95 kg
Power Supply Unit: 65W adapter (12VDC), 100-240VAC
Power Consumption: HDD Sleep Mode 3.43 W
Power Consumption: Operating Mode, Typical 10.81 W
Fan: 1 x 80mm, 12VDC
Max. Number of Concurrent Connections (CIFS) - with Max. Memory: 200
Package Contents
TS-233 Ethernet Cable x 1 AC Adapter Power Cord Flat head screw (for 3.5" HDD) x8 Flat head screw (for 2.5" HDD) x6
Εγγύηση
2 Έτη