Το προϊόν αφαιρέθηκε από το καλάθι σου με επιτυχία.
Το προϊόν αφαιρέθηκε από την Wishlist σου με επιτυχία.
Όλα τα προϊόντα αφαιρέθηκαν από το καλάθι σου με επιτυχία.
Όλα τα προϊόντα αφαιρέθηκαν από την Wishlist σου με επιτυχία.
Όλα τα προϊόντα ενημερώθηκαν με επιτυχία.
Όλα τα προϊόντα ενημερώθηκαν με επιτυχία.
Κάτι πήγε στραβά, παρακαλώ προσπαθήστε ξανά
Κάτι πήγε στραβά, παρακαλώ προσπαθήστε ξανά
Λόγω περιορισμένης διαθεσιμότητας δεν μπορείτε να προσθέσετε παραπάνω τεμάχια στο καλάθι
Λόγω περιορισμένης διαθεσιμότητας δεν μπορείτε να προσθέσετε παραπάνω τεμάχια στην Wishlist
Λόγω περιορισμένης διαθεσιμότητας σε κάποια από τα προϊόντα του καλαθιού σας δεν μπορείτε να προσθέσετε παραπάνω τεμάχια
Λόγω περιορισμένης διαθεσιμότητας σε κάποια από τα προϊόντα της Wishlist σας δεν μπορείτε να προσθέσετε παραπάνω τεμάχια
Synology RackStation RS422+ (4-Bay NAS)
809,90 €
Χωρίς ΦΠΑ: 653,15 €
Πληροφορίες
Κωδικός Msystems:
001-57421
Εγγύηση: 3 Έτη
Με πιστωτική κάρτα Visa, Mastercard
Δεν υπάρχει η δυνατότητα για άτοκες δόσεις με κάρτες American Express και Diners
404,95
€ / δόση =
809,90
€
269,97
€ / δόση =
809,90
€
202,48
€ / δόση =
809,90
€
161,98
€ / δόση =
809,90
€
134,98
€ / δόση =
809,90
€
Χρηματοδότηση μέσω τράπεζας
6 έως και 48 δόσεις
Οι δόσεις με χρηματοδότηση είναι έντοκες

RackStation RS422+
Compact and versatile storage for home and office
Streamline your data management
With its compact 1U form factor and powerful Synology DiskStation Manager (DSM) operating system, the 4-bay Synology RackStation RS422+ is an affordable all-in-one solution for small businesses and home lab owners looking to meet their daily data management, sharing, synchronization, and backup needs.

Performance
601/516 MB/s sequential read/write throughput

Performance
601/516 MB/s sequential read/write throughput

Connectivity
Built-in dual 1GbE ports with easy 10GbE option

File Integrity
ECC memory prevents data corruption
Space-saving design for flexible deployment
Thanks to its compact 1U chassis, the RS422+ fits perfectly in a 2-post or wall mount rack. Deploy it in space-limited environments or anywhere else without investing in costly railkits or other server equipment.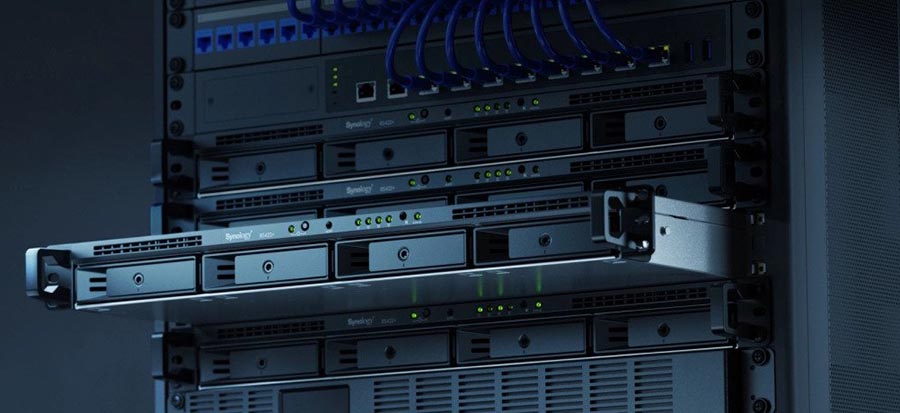 Flexible networking options
Leverage built-in connectivity to integrate the RS422+ into any IT environment, or expand its capabilities by adding plug-and-play modules.
Built-in connectivity
Dual Gigabit ports with support for network failover and load balancing deliver fast and dependable performance out of the box.
Easy upgrade to 10GbE
Add an E10G22-T1-Mini Network Upgrade Module through the easily accessible slot to instantly enable faster networking.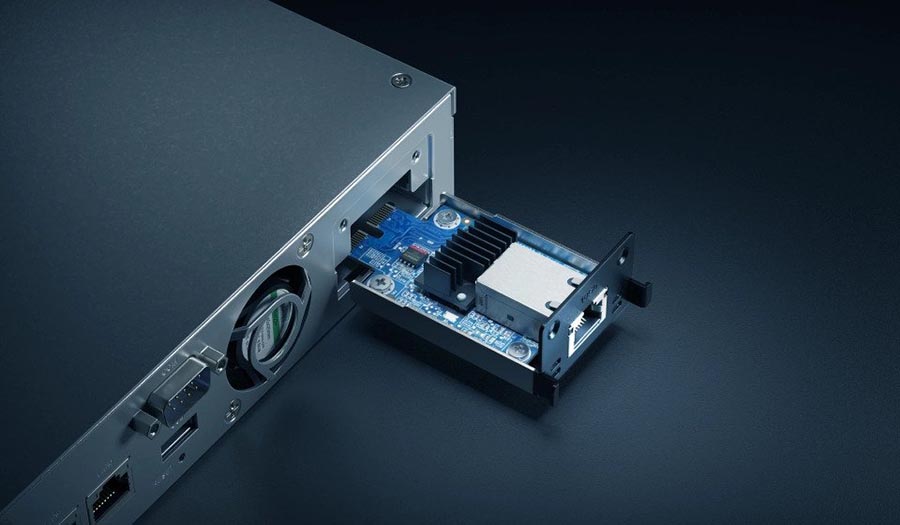 Private File Cloud
Enable effective collaboration with Synology Drive
Synology Drive provides remote data access, synchronization, on-demand file restoration, and backup via handy desktop and mobile applications.
Multi-platform support
Access personal and shared data from mobile app, desktop client, web browser, or another Synology system: Any changes you make are automatically synced to other devices as soon as they are connected.
Collaborate in real time
Integrate with Synology Office to enable concurrent editing on documents, spreadsheets, and slides, with support for conversion to and from Microsoft Word, Excel, PowerPoint, and OpenDocument files.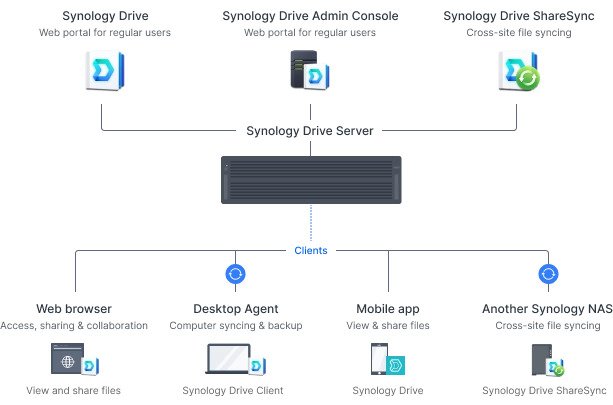 Efficient Multi-Site Syncronization
Connect teams with Hybrid Share
Utilize Hybrid Share to store large sets of data in the cloud, leveraging the powerful bandwidth of our data centers to stream requested files to local NAS deployed at the branch offices.
Data on demand
With Hybrid Share-enabled folders, remote teams retain full access to the most up-to-date files while benefiting from reduced local storage footprint and bandwidth usage.
Cache data used locally
Frequently accessed files are kept on the local NAS, allowing users to access them at LAN speeds. Files and folders can also be pinned manually to prevent them from being replaced when the cache is full.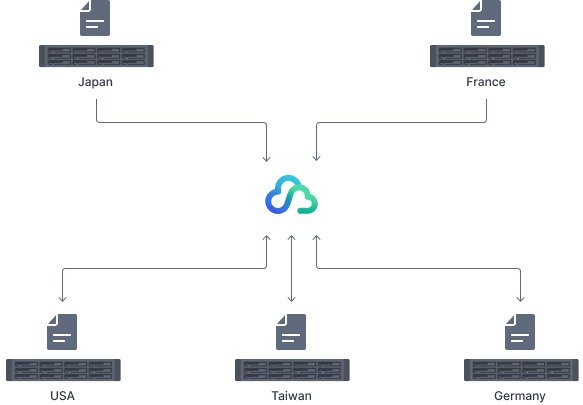 Consolidated Backup Server
Endpoint, VM, and NAS/SAN protection
Securely back up Windows and Linux endpoints, Synology servers, and VMware® and Hyper-V® virtual machines with Active Backup for Business.
Microsoft 365 and Google Workspace
Centralize backups of Microsoft 365 and Google Workspace data to protect it from accidents and simplify compliance with data retention policies. Schedulable backups, flexible file versioning, and block-level deduplication ensure flexibility and savings in terms of storage and bandwidth consumption.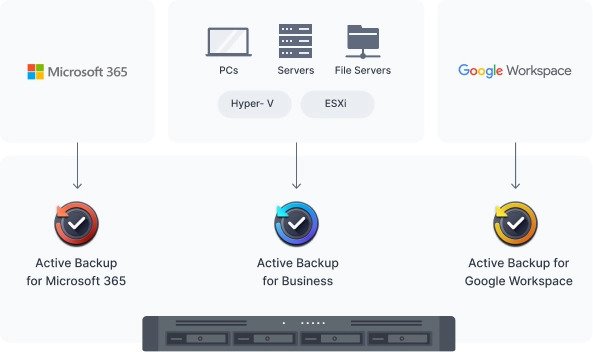 Data Protection and Recovery
Hyper Backup
Back up files, LUNs, installed applications, and system configurations to destinations including Synology C2 Storage, public cloud platforms, USB devices, file servers, local folders, or other Synology systems.
Set and forget backup tasks with regular schedules, enhance security with fine-grained user permissions and encryption, keep backup sizes small with built-in deduplication, and restore data flexibly with multi-versioning.
Snapshot Replication
Snapshot Replication enables configurable point-in-time snapshots of shared folders and VM storage with an RPO as low as 5 minutes and recovery within seconds.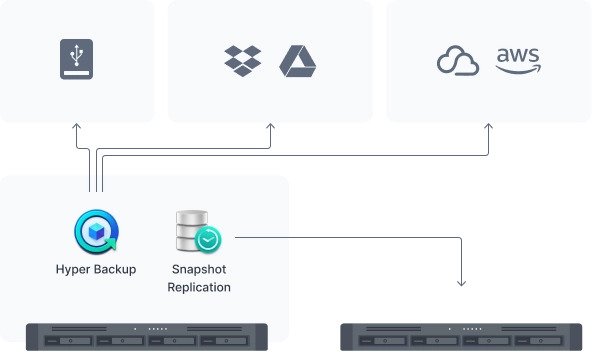 Simple-to-Deply Local Surveillance
Wide compatibility
Connect up to 40 IP cameras from a selection of over 8,300 validated models thanks to Synology Surveillance Station's wide camera compatibility.
Multi-platform convenience
Monitor live streams or watch recordings from web browser, desktop client, or the DS cam mobile app.
Secure and private
Footage is stored locally for easier compliance with data protection regulations and further protected from unauthorized access with industry-standard AES-256 encryption.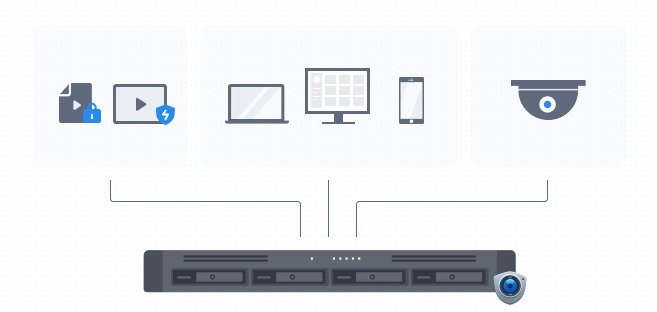 Flexible Monitoring of Multiple Locations
Assisted mass deployment
Automatically locate new cameras within a set IP range, and configure units in batch by importing spreadsheets or replicating settings to new cameras.
Centralized management and monitoring
Stay on top of your deployment by previewing triggered events directly on multi-floor or multi-location maps, with online map integration for Google Maps and OpenStreetMap.
Video analytics
Take advantage of intelligent monitoring features such as motion detection, no idle zone, foreign object detection, and anomaly detection to cater the most common surveillance scenarios.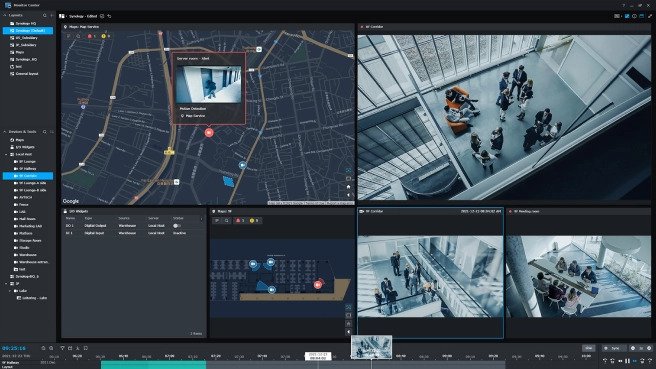 Hardware Specs
CPU
CPU Model: AMD Ryzen R1600
CPU Quantity: 1
CPU Architecture: 64-bit
CPU Frequency: 2-core 2.6 (base) / 3.1 (turbo) GHz
Hardware Encryption Engine (AES-NI): Yes
Memory

System Memory: 2 GB DDR4 ECC

Notes: Synology reserves the right to replace memory modules with the same or higher frequency based on supplier's product life cycle status. Rest assured that the compatibility and stability have been strictly verified with the same benchmark to ensure identical performance.
Storage
Drive Bays: 4
Compatible Drive Type: 3.5" SATA HDD, 2.5" SATA SSD
Hot Swappable Drive: Yes

Notes: "Compatible drive type" indicates drives that have been tested to be compatible with Synology products. This term does not indicate the maximum connection speed of each drive bay.
External Ports
RJ-45 1GbE LAN Port: 2 (with Link Aggregation / Failover support)
USB 3.2 Gen 1 Port: 1

Notes: The USB 3.0 standard was renamed to USB 3.2 Gen 1 by the USB Implementers Forum (USB-IF) in 2019.
PCIe Expansion
1 x Gen3 x2 network upgrade slot
File System
Internal Drives: Btrfs, EXT4
External Drives: Btrfs, EXT4, EXT3, FAT, NTFS, HFS+, exFAT
Appearance
Form Factor (RU): 1U
Size (Height x Width x Depth): 44 mm x 478 mm x 327.5 mm
Weight: 4.38 kg
Rack Installation Support*: 4-post 19" rack (Synology Rail Kit - RKM114/RKS-02), 2-post 19" rack (direct mounting)
Notes: The rail kit is sold separately
Others
System Fan: 40 mm x 40 mm x 3 pcs
Fan Speed Mode: Full-Speed Mode, Cool Mode, Quiet Mode
Power Recovery: Yes
Noise Level: 28.5 dB(A)
Scheduled Power On / Off: Yes
Wake on LAN / WAN: Yes
Power Supply Unit / Adapter: 100 W
AC Input Power Voltage: 100V to 240V AC
Power Frequency: 50/60 Hz, Single Phase
Power Consumption: 37.93 W (Access), 13.43 W (HDD Hibernation)
British Thermal Unit: 129.42 BTU/hr (Access), 45.83 BTU/hr (HDD Hibernation)
Temperature
Operating Temperature: 0°C to 35°C (32°F to 95°F)
Storage Temperature: -20°C to 60°C (-5°F to 140°F)
Relative Humidity: 5% to 95% RH
Certification
FCC, CE, BSMI, VCCI, RCM, UKCA, EAC, CCC, KC
Environment
RoHS Compliant
Packaging Content
Main Unit X 1
Accessory Pack X 1
AC Power Cord X 1
Quick Installation Guide X 1
Software Specs
Storage Management

Maximum Single Volume Size: 108 TB
Maximum Internal Volume Number: 64
SSD Read / Write Cache (White Paper): Yes
SSD TRIM: Yes

Supported RAID Type

Synology Hybrid RAID
Basic
JBOD
RAID 0
RAID 1
RAID 5
RAID 6
RAID 10

RAID Migration

Basic to RAID 1
Basic to RAID 5
RAID 1 to RAID 5
RAID 5 to RAID 6

Volume Expansion with Larger HDDs

Synology Hybrid RAID
RAID 1
RAID 5
RAID 6
RAID 10

Volume Expansion by Adding a HDD

Synology Hybrid RAID
JBOD
RAID 5

Global Hot Spare Supported RAID Type

Synology Hybrid RAID
RAID 1
RAID 5

Notes

Actual maximum storage pool and volume sizes depend on drive sizes used, the number of drive bays available, and the RAID configuration.

The maximum single volume size is not directly related to the maximum raw capacity.

Usable capacity for each volume will be lower than the maximum volume size and is dependent on the filesystem and the amount of system metadata stored.

File Services
File Protocol: SMB/ AFP/ NFS/ FTP/ WebDAV
Maximum Concurrent SMB/ AFP/ FTP Connections: 500
Windows Access Control List (ACL) Integration: Yes
NFS Kerberos Authentication: Yes

Notes: The testing standard was based on the maximum number of concurrent connections supported by this model. During the testing, 25% of the connections were used to transfer files concurrently. The transfer process guaranteed that the connections were not interrupted; the minimum transfer speed was not guaranteed.
Account & Shared Folder
Maximum Local User Accounts: 2,048
Maximum Local Groups: 256
Maximum Shared Folder: 512
Maximum Shared Folder: Sync Tasks 8
Hybrid Share
Hybrid Share Folder Number: 10
High Availability
Synology High Availability: Yes
Log Center
Syslog Events per Second: 800
General Specifications

Networking Protocols

SMB1 (CIFS), SMB2, SMB3, NFSv3, NFSv4, NFSv4.1, NFS Kerberized sessions, iSCSI, HTTP, HTTPs, FTP, SNMP, LDAP, CalDAV

Supported Browsers

Google Chrome, Firefox, Microsoft Edge, Safari

Supported Language

English, Deutsch, Français, Italiano, Español, Dansk, Norsk, Svenska, Nederlands, Русский, Polski, Magyar, Português do Brasil, Português Europeu, Türkçe, Český, ภาษาไทย, 日本語, 한국어, 繁體中文, 简体中文

Add-on Packages
Antivirus by McAfee (Trial)
Yes
Central Management System
Yes
Synology Chat

Maximum Number of Concurrent Users: 100

Notes:

Measured with simulated users, each with an average record of 20,000 messages, emojis, or stickers. The required server response time is below ten seconds.

When applicable, systems are tested configured with maximum memory and set to allow the maximum number of connections.

Document Viewer
Yes
Download Station
Maximum Concurrent Download Tasks: 80
SAN Manager
Maximum iSCSI Target Number: 128
Maximum LUN: 256
LUN Clone/Snapshot, Windows ODX: Yes
Media Server
DLNA Compliance: Yes
Synology Photos
Facial Recognition: Yes
Facial Recognition
Yes
Snapshot Replication
Maximum Snapshots per Shared Folder: 1,024
Maximum of System Snapshots: 65,536
Surveillance Station

Maximum IP cam (Licenses required):

40 (including 2 Free License) (see all supported IP cameras)

Total FPS (H.264):

1200 FPS @ 720p (1280 x 720)
800 FPS @ 1080p (1920 x 1080)
350 FPS @ 3M (2048 x 1536)
280 FPS @ 5M (2591 x 1944)
170 FPS @ 4K (3840 x 2160)

Total FPS (H.265):

1200 FPS @ 720p (1280 x 720)
1200 FPS @ 1080p (1920 x 1080)
600 FPS @ 3M (2048 x 1536)
480 FPS @ 5M (2591 x 1944)
200 FPS @ 4K (3840 x 2160)

Notes:

Maximum IP cameras and FPS figures are tested with the device fully populated with drives and under a continuous recording setup.

Actual system capabilities may differ depending on system configuration, drive performance, number of features enabled, and if additional workloads are present.

Synology Drive

Recommended Number of Concurrent Sync Clients:

350 (the number of connections that can be maintained when the recommended number of hosted files was reached)

Recommended Number of Hosted Files:

5,000,000 (applies to files indexed or hosted by Synology Drive. For file access through other standard protocols, refer to the File Services section above)

Notes:

Exceeding the recommended numbers above will not block application operations, but may result in longer response time.

Utilizing SSD cache can significantly improve performance.

Btrfs file system and non-encrypted shared folders were used during the aforementioned testing.

Synology Office

Maximum Users 200

Notes:

Multiple files were opened for testing and each file was edited by 30 users simultaneously.

Client performance may affect maximum simultaneous editing users. Client PCs used for testing: Intel Core i3-3220 / 8GB RAM

Video Station
Yes
VPN Server
Maximum Connections: 40
Κατασκευαστής
Synology
Μοντέλο
RackStation RS422+ (4-Bay NAS)
Part Number
RS422+
Κατηγορία
NAS Chassis
Αριθμός Δίσκων
4x 2.5"/3.5"
Υποστήριξη RAID
Basic
RAID 0
RAID 1
RAID 5
RAID 6
RAID 10
JBOD
Rackmount
Rack
Θύρες Ethernet
2x 1 Gbps
Συνδέσεις
1x USB 3.2 type A - Gen 1
Μνήμη RAM
2GB DDR4 ECC
Πρόσθετα Χαρακτηριστικά
Υποστήριξη iSCSI
Εγγύηση
3 Έτη
Φυλλάδιο Προϊόντος

Φυλλάδιο Προϊόντος